Frontotemporal Dementia Market Analysis, Leading Companies, Emerging Drugs and Epidemiology Forecast
DelveInsight's "Frontotemporal Dementia Market Insights, Epidemiology, and Market Forecast 2030" report delivers an in-depth understanding of the Frontotemporal Dementia, historical and forecasted epidemiology as well as the Frontotemporal Dementia market trends in the United States, EU5 (Germany, Spain, Italy, France, and United Kingdom) and Japan.
Frontotemporal dementia (FTD) is an umbrella term for a diverse group of uncommon disorders that primarily affect the frontal and temporal lobes of the brain areas. In this disorder, portions of these lobes shrink (atrophy). The degeneration of the frontotemporal lobe is primarily triggered due to proteins involvement TDP43 and tau, which directly outbreaks the damage on the temporal and frontal lobes of the brain.
Signs and symptoms vary, depending upon the portion of the brain affected. Some people with frontotemporal dementia undergo dramatic changes in their personality and become socially inappropriate, impulsive, or emotionally indifferent, while others lose the ability to use language.
Get FREE sample copy at:
https://www.delveinsight.com/sample-request/frontotemporal-dementia-market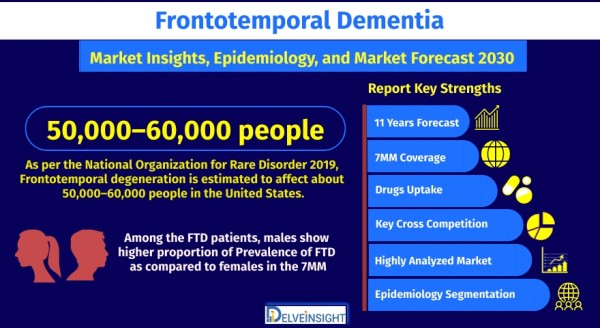 The Frontotemporal Dementia market report also covers emerging drugs, current treatment practices, Frontotemporal Dementia market share of the individual therapies, current and forecasted Frontotemporal Dementia Market Size from 2017 to 2030 segmented by seven major markets.
The report provides a detailed current Frontotemporal Dementia treatment practice/algorithm, market drivers, market barriers and unmet medical needs to curate best of the opportunities and assesses the underlying potential of the market.
Frontotemporal Dementia Market Key Facts
Among the FTD patients, males show higher proportion of Prevalence of FTD as compared to females in the 7MM
As per the National Organization for Rare Disorder 2019, Frontotemporal degeneration is estimated to affect about 50,000–60,000 people in the United States.
As per the study conducted by Juan Joseph Young et al. 2017, in the USA, the prevalence of FTD between the ages of 45–65 years ranged from 15 to 22 per 100,000 people, with incidence estimates ranging from 2.7 to 4.1 per 100,000 members in the same age range.
Key Benefits of Frontotemporal Dementia Market Report
Frontotemporal Dementia market report provides an in-depth analysis of Frontotemporal Dementia Market Size, Share, Trend, Epidemiology and Market Forecast till 2030, in 7 major market i.e. EU5 (Germany, Italy, Spain, France and the UK), Japan, and the United States.

The Frontotemporal Dementia market report will help in developing business strategies by understanding the Frontotemporal Dementia Market trends & developments, key players and future market competition that will shape and drive the Frontotemporal Dementia market in the upcoming years.

The Frontotemporal Dementia market report covers Frontotemporal Dementia current treatment practices, emerging drugs, market share of the individual therapies in 7 MM.

The report provides a detailed assessment of the Frontotemporal Dementia market in terms of market drivers & barriers, Unmet Needs, market opportunities, patient population, comparative analysis of pipeline products with detailed clinical profiles, and other factors.
Frontotemporal Dementia Market
Even though various therapies are available for the management of symptoms of frontotemporal dementia, they have some limitations such as a high dose of these therapies, which may cause life-threatening adverse effects. So, there is a high unmet need for novel therapies that can overcome these limitations. In addition to this, there is no effective therapy for cognitive complaints in FTD, which frequently involve executive function, memory, and language.
To redress the current issues, the companies are currently working on novel therapies to meet the needs of the current market. Companies are primarily focused on adapting to the latest technological advancement in drug manufacturing and offering drugs with the reduced side effect for the frontotemporal dementia treatment. Moreover, the research and development in advanced gene therapy, particularly in the field of neurodegeneration, is offering the manufacturers involved in the frontotemporal dementia treatment market, a prime scope for competition.
The Frontotemporal Dementia market outlook section of the report helps to build the detailed comprehension of the historic, current and forecasted Frontotemporal Dementia market trends by analyzing the impact of current therapies on the market, unmet needs, drivers and barriers and demand for better technology.
The report gives a thorough detail of Frontotemporal Dementia market trend of each marketed drug and late-stage pipeline therapy by evaluating their impact based on the annual cost of therapy, inclusion and exclusion criteria, mechanism of action, increasing patient pool, covered patient segment, expected launch year, competition with other therapies, and view of the key opinion leaders.
Frontotemporal Dementia Epidemiology
The Frontotemporal Dementia epidemiology section covers insights about historical and current Frontotemporal Dementia patient pool and forecasted trends for every seven major countries (i.e. the United States, EU5 countries (Germany, Spain, Italy, France, and the United Kingdom), and Japan from 2017 to 2030.
It helps to recognize the causes of current and forecasted trends by exploring numerous studies and views of key opinion leaders. The epidemiology section also provides the diagnosed patient pool and their trends along with assumptions undertaken.
Frontotemporal Dementia Drugs Uptake and Key Market Players
The Frontotemporal Dementia Drugs Uptake section focuses on the rate of uptake of the potential drugs recently launched in the Frontotemporal Dementia market or expected to get launched in the market during the study period. The analysis covers Frontotemporal Dementia market uptake by drugs; patient uptake by therapies; and sales of each drug.
Report's Drugs Uptake section helps in understanding the drugs with the most rapid uptake, reasons behind the maximal use of new drugs and allow the comparison of the drugs on the basis of market share and size which again will be useful in investigating factors important in market uptake and in making financial and regulatory decisions.
Companies across the globe are working toward the development of new treatment therapies for frontotemporal dementia, but few companies have made it to the clinical stage of development. Frontotemporal Dementia (FTD) is an underdiagnosed group of neurological syndromes comprising multiple variants with distinct neurobiological profiles and presentations.
But the dynamics of the Frontotemporal dementia market is anticipated to change in the coming years owing to the improvement in the diagnosis methodologies, raising awareness of the disease, incremental healthcare spending across the world, and also the expected launch of emerging therapies during the forecast period of 2020–2030. Recent advances also suggest that there is an array of potential novel therapeutic targets, although data concerning their effectiveness are still preliminary.
Some of the key players in the Frontotemporal Dementia market includes:
TauRx Therapeutics
Alector
Neurimmune
Biogen
And many others.
Drugs Covered
LMTX
AL001
NI205
And many others.
Table of Content
1. Key Insights
2. Executive Summary
3. Frontotemporal Dementia Competitive Intelligence Analysis
4. Frontotemporal Dementia Market Overview at a Glance
5. Frontotemporal Dementia Disease Background and Overview
6. Frontotemporal Dementia Patient Journey
7. Frontotemporal Dementia Epidemiology and Patient Population
8. Frontotemporal Dementia Treatment Algorithm, Current Treatment, and Medical Practices
9. Frontotemporal Dementia Unmet Needs
10. Key Endpoints of Frontotemporal Dementia Treatment
11. Frontotemporal Dementia Marketed Products
12. Frontotemporal Dementia Emerging Therapies
13. Frontotemporal Dementia Seven Major Market Analysis
14. Attribute Analysis
15. Frontotemporal Dementia Market Outlook (7 major markets)
16. Frontotemporal Dementia Access and Reimbursement Overview
17. KOL Views on the Frontotemporal Dementia Market.
18. Frontotemporal Dementia Market Drivers
19. Frontotemporal Dementia Market Barriers
20. Appendix
21. DelveInsight Capabilities
22. Disclaimer
Related Reports
Frontotemporal Dementia Epidemiology Forecast to 2030
DelveInsight's ' Frontotemporal Dementia Epidemiology Forecast to 2030' report delivers an in-depth understanding of the disease, historical and forecasted Frontotemporal Dementia epidemiology in the 7MM, i.e., the United States, EU5 (Germany, Spain, Italy, France, and the United Kingdom), and Japan.
Frontotemporal Dementia Pipeline Insights, 2020
Frontotemporal Dementia Pipeline Insight, 2020 report by DelveInsight outlays comprehensive insights of present clinical development scenario and growth prospects across the Frontotemporal Dementia market.
About DelveInsight
DelveInsight is a leading Business Consultant, and Market Research Firm focused exclusively on life sciences. It supports pharma companies by providing end to end comprehensive solutions to improve their performance.
Media Contact
Company Name: DelveInsight Business Research LLP
Contact Person: Anuj Rawat
Email: Send Email
Phone: +919650213330
Address:304 S. Jones Blvd #2432
City: Las Vegas
State: NV
Country: United States
Website: https://www.delveinsight.com/