Interest free… ZT opens the "Pledged Loan" interest free activity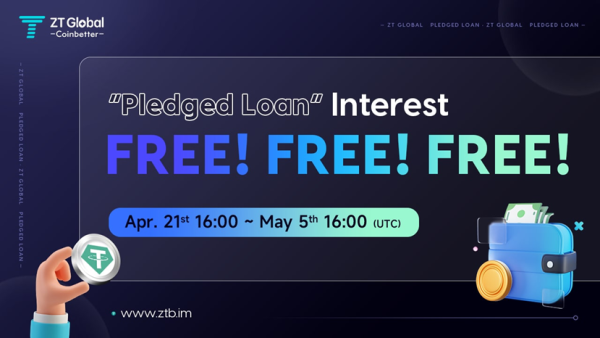 In the traditional financial field, lending services are a very important branch, a trillion-dollar market covering financial institutions such as banks and securities. The emergence of blockchain has magnified the infinite possibilities of lending, and also provided more people with crypto asset lending services.
The demand for lending has a natural adaptability to crypto users. When there is an urgent need for turnover, investors can directly pledge their coins to the exchange without selling their crypto assets, so as to obtain liquidity and complete their own crypto investment.
Although the mortgaged assets are different, like traditional lending, mortgage lending also needs to pay interest. Taking ZT's pledged loan, the current daily interest rate is 0.03%, which is slightly lower than the market average. That is to say, if 10,000 USDT are borrowed, the daily interest is only 3 USDT.
In this low interest rate situation, in order to give real profits to users, ZT will hold an interest-free activity for all currencies from 00:00 on April 22nd to 00:00 on May 06th (UTC+8).
Of course, in addition to interest-free, ZT mortgage lending is also very smooth: directly select "Crypto Loan" on the homepage of the APP, or "Pledged Loan" in the navigation bar at the top of the Web terminal, select the type of pledge currency, and a variety of currencies that can be borrowed, pledge currency, loan cycle, for users to choose freely.
7*24 hours customer service, fast arrival.
That is to say, during this period, the user does not need to bear any interest when borrowing. For users, "borrowing is earning", and for users who need turnover, it is a business that only makes money and does not lose money.
This extremely fast lending model can not only solve the urgent needs of users, but also maximize the value of users' assets and reduce users' worries about losing money-making opportunities due to selling coins.
From trading to wealth management, to leverage, lending and other financial derivatives, ZT has always been actively innovating, and has always insisted on giving real profits to users, so that platform users can get more benefits. We firmly believe that only the support of users can make ZT go further on the exchange track.
It is believed that in the future, ZT, which cares about users and moves forward steadily, will definitely try to expand more service boundaries and bring users a better investment environment and services.
Media Contact
Company Name: Coinbetter
Contact Person: Media Relations
Email: Send Email
Country: Singapore
Website: https://www.coinbetter.com/