Victorious PR Named Finalist for 2022 SABRE New PR Agencies of the Year Award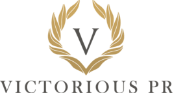 Victorious PR is one of four North American finalists in the New Agencies of the year
Victorious PR has been shortlisted as one of four finalists in the 2022 New PR Agencies of the Year Award category at the upcoming SABRE Awards ceremony on Wednesday, May 4, 2022, in New York City.
After an intricate research process which involved over 150 submissions and numerous meetings with PR firms across the country and in Canada, the North American SABRE Awards has now narrowed down its finalists across 13-different categories to be honored in Cirpiani Midtown.
Victorious PR joins Agean Public Relations, Bryson Gillette, and Milk & Honey in the category of 2022 New PR Agencies of the Year Award.
"It has been a stellar year so far at Victorious PR as we have seen exponential growth," said founder and CEO Victoria Kennedy. "Our internal staff is continuing to grow while we are also expanding our client base. We look forward to continuing our winning ways as the year progresses and have an even better showing than we did in 2021."
The SABRE Awards recognizes, annually, the best-of-the-best for their superior achievements in branding, building stout reputations and engagement for their clients.
Winners of all 13 awards will be unveiled on Wednesday, May 4, 2022, live at the SABRE Awards ceremony at Cipriani Midtown in NYC.
For more information about the upcoming SABRE Awards ceremony and for a list of all the nominees in each category, please refer to the official Provoke Media press release.
About Victorious PR
Victorious PR is an award-winning, full-service PR agency that helps businesses get featured in
industry-specific media, local press, podcasts, and top publications to be seen as industry leaders in their fields. It has won numerous awards, including Best PR Firm, and is a member of both the Rolling Stone and Forbes Councils. To book a call to become the #1 authority in your niche, please visit: https://victoriouspr.com/
Media Contact
Company Name: Victorious PR
Contact Person: Victoria Kennedy
Email: Send Email
Phone: (702) 710-7621
City: Las Vegas
State: Nevada
Country: United States
Website: www.victoriouspr.com