Canadian teacher gives lecture on Asian Games sports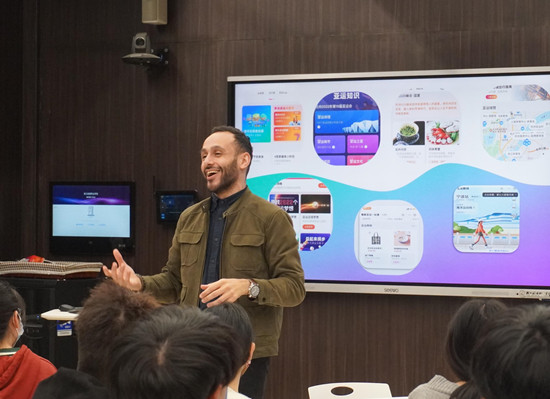 Fodil Selmouni, a French Canadian who came to Hangzhou in 2016 and now teaches English at the Tourism College of Zhejiang, recently gave a lesson on Asian Games sports rugby and kabaddi.
Dubbed the "game of the bravest", rugby originated in England from football but is much more intense and exciting than its predecessor.
Each of the seven players have their own roles, such as running forward with the ball, or kicking or holding it for a series of back passes or cross passes. The defensive side can grasp, hold, or tackle to block the offensive side. Points are scored through touchdowns and field goals.
Kabaddi, a term most people aren't familiar with, is actually an official Asian Games sport that originated in India and boasts a history of over 4,000 years.
A central line divides the field into two equally-sized sections which serve as home bases for the two opposing teams. Each team has 12 players, with seven on the pitch and five substitutes.
The core idea of the game is to score points by raiding into the opponent's court and touching, tagging or wrestling as many defence players as possible without getting caught while holding their breath.
Media Contact
Company Name: The Information Office of Hangzhou Municipal Government
Contact Person: Cai Jingwen
Email: Send Email
Phone: 0510-68559077
Country: China
Website: http://www.ehangzhou.gov.cn/