Artist Whxte Hxrt is mixing 90s boom-bap with Lofi hip hop to create fresh new sounds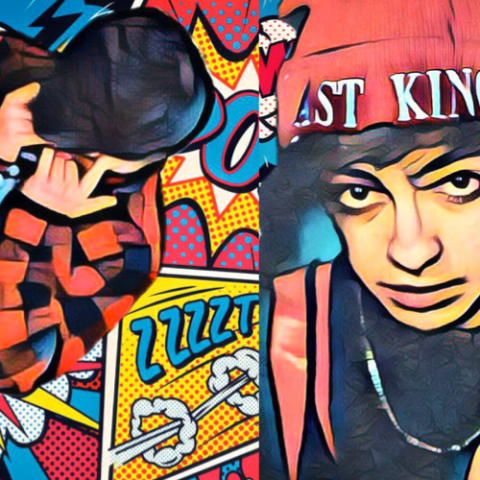 Whxte Hxrt is a talented Hip Hop artist and producer based in Ontario, Canada who developed an early interest in music listening to the likes of Chris Webby, Hi-rez, and Mac Miller. He started making music in his freshman year, focusing on his songwriting skills and writing diss tracks to the students who picked on him in high school. After graduating from college in 2019, he started working on his flow and learning how to mix and master his music. His talent didn't remain hidden for too long as he went on to collaborate with artists like Danny Riguez & Maverick Matt Saxon who was on the TLC show Extreme Cheapskates as the: Cheapest Wrestler.
Over the years, Whxte Hxrt signed a record deal to M.U.D Records, owned by Giometric, and developed his unique style, which is a mix of 90's Boom bap and Lo-Fi Hip Hop. Talking about his musical style the artist adds, "I tend to fuse it with modern-day sounds to show that I'm not stuck in the past so it's modern-day meets old school."
Whxte Hxrt fell in love with 90's Hip Hop from the moment he searched it up on Youtube, at the age of 14. The first song he listened to was Big L's "Put it on", and instantly realized his passion for Hip Hop music. "I know I wasn't going to be rapping about drugs, guns, or violence so I used hip hop as a place to vent and express myself through an art form as I used to do with poetry", adds the artist.
Owing to his remarkable talent, Whxte Hxrt has garnered the attention of his favorite rappers like Chris Webby, Hi-Rez, Shing02, and Jarren Benton. In some of his latest projects including the album "Black and Red", Whxte Hxrt shows a more mature songwriting prowess and smooth vocal delivery, carrying influences from artists like LL Cool, Nas, Big Daddy Kane, Tupac, Wu-Tang Clan, A Tribe Called Quest and Biggie.
Talking about his latest project "Black and red", the artist states, "You can see with my latest projects I'm venting a lot about how I feel and what's in my mind, Black & Red is myself showing my side of life through my music and what I want myself to sound like no matter who I am and where I come from plus what I went through to get here". Most of his music has deep meanings embedded in it and one has to listen to it multiple times for understanding its true essence.
With his upbeat, honest, and groovy music, Whxte Hxrt sends an inspiring message to believe in yourself and your dreams. Just as he never let the haters affect him, he wants to tell other people to do the same and keep working hard to achieve all your dreams.
Whxte Hxrt music is available on all musical platforms through this LINK.
You can follow and connect with Whxte Hxrt on Instagram @whxte_hxrt.
Media Contact
Company Name: M.U.D RECORDS
Contact Person: Sami Bangash
Email: Send Email
Country: Canada
Website: www.instagram.com/whxte_hxrt/