Lilian Ruach's newest book "A Ride To Save The Earth" is getting loved from its young readers
'A Ride To Save The Earth' is a well-Illustrated Picture Book that is aimed at teaching children teamwork and the benefits of recycling waste, which the author hopes will help them become more conscious of their roles in saving the Earth.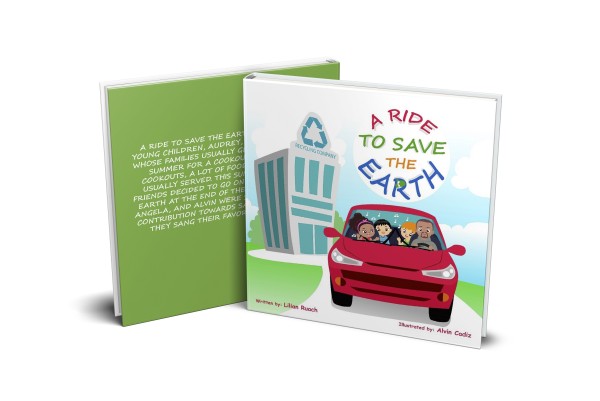 Lilian Ruach, a Professional Childcare Provider, and a mother of two whose love for children defined her career path has just released a new title. "A Ride To Save The Earth."
The book revolves around three young children, Audrey, Angela, and Alvin. whose families get together every summer for a cookout. The three families enjoy delicious food and drinks together during these outings. This summer, the three young children decided to go on a ride at the end of the cookout to save the earth. Audrey, Angela, and Alvin became elated with their contribution toward saving the earth. They have even more fun as they sing their Original Earth Song.
With the increasing level of air and water pollution of our dear planet earth each passing day, and the efforts of environmentalists to create awareness and change, it has become inevitable to include children in the learning process. So, Lilian Ruach has written this fun yet enlightening book to educate those who are our future about different ways to save the planet, one of which is, by recycling waste. Lilian also believes that communicating this to children and getting them involved will produce the consciousness necessary to help them play their roles in saving the planet starting now and as they become older.
Below is a sneak peek into the book:
"The Earth is the Lord's and the fullness thereof; the world and they that dwell therein. Therefore, it is nice to take care of the earth".
"A Ride To Save The Earth" can be purchased from Amazon.com: https://www.amazon.com/dp/B09Y4Q9CR7
Lilian is also a member of a few Associations, including NAEYC. She loves to care for the vulnerable and has an interest in charity organizations with children as their main cause.
Lilian Ruach can be found on @lilianruach
Media Contact
Company Name: Lilian Ruach LLC
Contact Person: Lilian Ruach
Email: Send Email
City: Randallstown
State: Maryland
Country: United States
Website: www.amazon.com/dp/B09Y4Q9CR7