Kivnon Demonstrates Merits of AGVs at Automotive Plant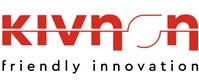 Kivnon, a leader in developing, designing, producing, and distributing automated guided vehicles (AGVs), recently shared a video how their products effectively demonstrate an end-of-line buffer at large automotive plant. The YouTube captures the unloading mechanism at an automotive assembly line including PLC integration, traffic management, sequencing seats, WiFi signals, and human-AGV-robot interaction.
A French global automotive supplier headquartered in Nanterre, in the western suburbs of Paris is featured in the video. The company was the 9th largest international automotive parts manufacturer in the world and #1 for vehicle interiors and emission control technology.
According to Rob Britt, Kivnon's Sales Engineer, "AGVs (automated guided vehicles) and AMRs (automated mobile robots) are seriously considered by operations and material handling experts. The technology emphasizes the efficacy of magnetic propulsion solutions; they are tested, established, and have worked well for more than two decades." The Kivnon USA offices were opened earlier this year in Farmington Hills, Michigan.
Kivnon continues to offer other solutions that work in consort with their entire product line. The global customer base continues to grow and expand particularly as the workforce is increasingly unavailable to drive fork trucks.
About Kivnon:
Kivnon offers a wide range of autonomous vehicles (AGVs/AMRs) and accessories for the transport of goods, using magnetic navigation or mapping technologies, that adapt to any environment and industry. The company offers an integral solution to customers. Kivnon products are characterized by their robustness, safety, precision, and high quality. Each product has been designed with a user-friendly philosophy creating a pleasant, simple to install, and intuitive work experience.
The company offers a wide range of mobile robotics solutions automating different applications within the automotive, food and beverage, logistics and warehousing, manufacturing, and aeronautics industries. Complete the 2022 ROI Kivnon AGV/AMR inquiry form. Follow Kivnon on Twitter @KivnonUSA.
Media Contact
Company Name: Kivnon
Contact Person: Rob Britt
Email: Send Email
Phone: (947) 228-1316
Address:37640 Hills Tech Drive
City: Farmington Hills
State: MI
Country: United States
Website: https://www.kivnon.com/