The first domestic DF battery flagship store was grandly opened
On June 18, the first domestic DF battery flagship store was grandly opened in Luoyang Guorun Auto Industrial Park, marking the entry of DF, a high-end battery brand, into the auto aftermarket with a new business format, which is also an important step for Camelot to segment the market and further stabilize the 1+N brand pattern.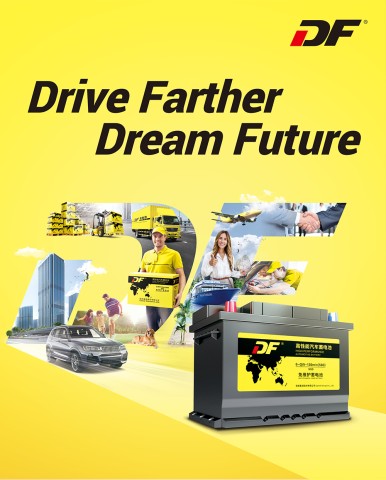 DF Storage Battery means drive farther, dream future. It is positioned as a global brand since its birth and the opening of the first flagship store further integrates into the global development pattern, takes the development of international market as a new opportunity and new stage for its development, promotes the high-quality development of products with the brand going abroad, and promotes the globalization of brand, standardization of product service, integration of channel integration, and development in a concerted manner. The 5+ strategy of brand globalization, product service standardization, channel integration integration, sustainable development and category diversification.
"Domestic and foreign patterns" – globalization of brands to play the strongest voice of Chinese brands
In 1966, an enterprise named "Yangzhou Storage Battery Factory" was established, and after 54 years of development, it became a wholly-owned subsidiary of Camelot Group in 2014, and created a global high-end storage battery brand – DF. Our products have been exported to Europe, Australia, North America, the Middle East, Africa and other parts of the world, and the annual export volume has been increasing.
At present, in China's automotive aftermarket, there are many brand authorization models. The traditional authorization and franchising emphasizes too much on the influence of the brand and the implementation of standards, and not enough support is given to the authorized stores to survive and live happily. DF Battery has opened the business model of "battery flagship store", which is a registered franchise retailer for qualified fast repair shops, repair shops, chain stores, etc.

DF battery plans to lay out 30,000+ DF battery flagship stores in the next 5 years, to be a city operator covering domestic and international battery speed distribution – DF battery flagship stores. -DF battery flagship stores.
Products + services – standardization of products and services to cast the soul of brand development
At present, DF battery specializes in the production of lead-acid batteries for two categories of starters: automotive and marine, which are of Chinese standard, German standard, Australian standard, American standard and International Electrotechnical Commission standard, covering multiple fields involving passenger cars, commercial vehicles, agricultural light trucks, parking air conditioners, ships, tools and machinery.
Its series of battery products have provided starter battery supporting services for Caterpillar, Yaxing Group, Geely Group, Shanghai Huapu Automobile, Anhui Ankai Bus, Jianghuai Bus, Mahindra Salt Tractor, Jiangsu Wade Group and other enterprises and brands, which have won high evaluation and recognition.
Online with offline – integration by channel integration, deep seize the new track!
In the face of the domestic car ownership rising year by year, the vast prospects of the battery replacement market, the comprehensive expansion of DF battery flagship store, will also create a comprehensive online and offline battery sales and maintenance service channels for this high-end brand, to enhance brand awareness and influence, to establish a new image of "Chinese brand" in the overseas market, to form their own competitive advantage. It will play an irreplaceable role in enhancing brand awareness and influence, establishing a new image of "Chinese brand" in overseas markets and forming its own competitive advantage.
In the future, DF Lead-acid Battery will also cooperate closely with Jingdong, Tmall, Tuhu and other channels and platforms to carry out O2O mode and quickly serve the elite group of car owners.
Sales and recycling – sustainable development to achieve a win-win situation of development and environmental protection.
As a leading enterprise in the manufacturing capacity of lead battery in China and the production capacity of recycled lead in Hubei Province, Camel Group plays a pioneering role in establishing the "sell one collect one" recycling system for lead-acid batteries. After years of continuous layout, Camel Group has built a circular economy model of "battery production-sales-recycling-regeneration-reproduction and reuse" in the field of automotive low-voltage lead-acid batteries. The batteries produced are sold to automobile OEMs.
The batteries produced are sold to automobile OEMs, repair stores and end customers, and the old batteries are recycled while new batteries are provided. Relying on the Group's green recycling industry chain, DF Battery will also achieve a win-win situation of development and environmental protection.
"Storage battery and multi-category" – diversification by category, advantages empowering integrated development.
When consumers needs become more critical and demanding, the only way for brands to win a larger market share is to sink their hearts into solving users' pain points, DF battery has developed a full range of product lines for a variety of vehicles, mainly 1D and 2D series batteries, ace products EFB and AGM start-stop batteries, and star products parking air conditioning batteries.
Whether it is stability, durability, or startability, the whole series of DF products meet the needs of all kinds of vehicles; whether it is the pursuit of quality middle-aged consumers, or the young people who look at power, DF batteries can provide strong starting power. In the future, DF battery will also introduce a diversified category model to expand more car matching and accessory businesses that meet the needs of elite car owners.
One step at a time, Advanced-quality battery is steadily improving its brand strength. Relying on higher manufacturing level, innovative after-sales service model, perfect sales system and other advantages, DF battery will continue to write the legend of global auto aftermarket. For DF battery, "selling to the world + moving to the world" is not a slogan, not a fantasy, it will be integrated into the blood of the group's development and become another business card of the Chinese brand to the world.
Media Contact
Company Name: DF Storage Battery | Camel Group Co., Ltd.
Contact Person: Media Relations
Email: Send Email
Phone: +86 027 5210 8948
Address:No. 125, Keji 2nd Rd., East Lake High-Tech Development Zone
City: Wuhan
State: Hubei
Country: China
Website: https://camelbatt.com/