OPLED: Where Creativity, Sustainability, and Nostalgia Meet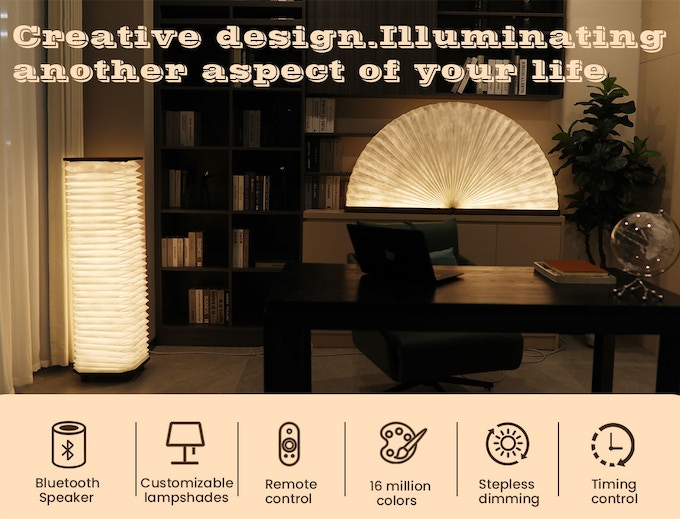 16 Million Color RGB Lights/DIY Lampshade/Bluetooth Speaker/AB Double Style/Remote Control/Eye Protection Anti-glare/Easy To Clean
OPLED is an enterprise centered around "specialty paper," with a focus on environmental friendliness, creativity, and a nostalgic touch. With expertise in research, development, production, and sales, OPLED is dedicated to creating a series of highly imaginative and emotionally resonant products. Guided by a people-centric design philosophy, the company relentlessly pursues innovation and excellence while prioritizing a remarkable customer experience, earning high praise in the market.
The latest offering from OPLED is a floor paper lamp that seamlessly blends aesthetics and functionality. The lampshade is made of DuPont paper, which is waterproof, and the base is crafted with thickened wood, ensuring exceptional durability and an extended product lifespan. Additionally, the lampshade features an exquisite koi fish illustration, enhancing its overall visual appeal. In terms of design, the lamp is available in two forms: an upright accordion-style lamp and a folding fan-style lamp, adding a decorative touch to your living space. Furthermore, the upright accordion-style lamp comes in two variations, providing you with more options.
In terms of functionality, the larger-sized upright accordion-style floor lamp incorporates a built-in Bluetooth speaker, allowing you to control it via your smartphone. It supports timed operations and music playback, and the lighting effects can synchronize with the rhythm, creating a more immersive atmosphere for your daily life. All variants offer 16 million adjustable colors, seamless dimming, and eye-friendly anti-dizziness features, providing you with the ultimate lighting experience.
OPLED's latest product will debut on Kickstarter, where you can be among the first to experience the transformative power of OPLED lighting in your life.
Visit our Kickstarter page to embark on this remarkable journey of illuminating your world with OPLED.
Media Contact
Company Name: XSHOW innovation
Contact Person: WANG FENG
Email: Send Email
Country: HongKong
Website: https://www.kickstarter.com/projects/galaxycreatinglab/opled-illuminating-another-aspect-of-your-life