Amber Martinez Shines in Beaded Blue Silk Gown, at the Premiere of Jeanne Du Barry, at the 76th Cannes Film Festival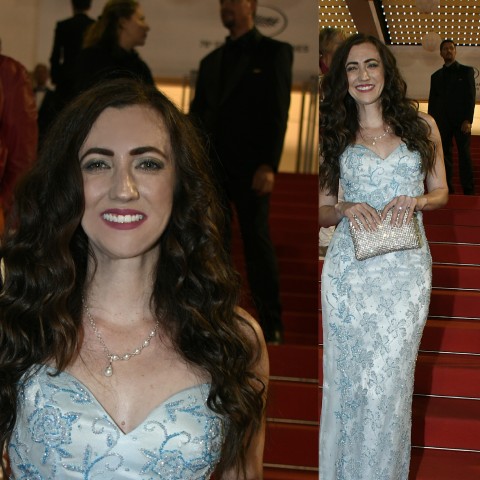 Amber Martinez, American actress and celebrity, known for her various film and television roles, was seen on the red carpet, during the opening night of the 76th Cannes Film Festival, at the premiere of Johnny Depp and Maiwenn Le Bescols film "Jeanne Du Barry". Amber enjoyed the film and commented, "The entire cast was so talented. It was a pleasure, to attend the screening. I even cried at some points during the movie, it was so emotionally moving. A true masterpiece film and I loved, that it was all in French."
Amber's gown was a custom made piece, by Israeli-American international fashion designer, Rita Mezrahi. Her gown included over 1 0,000 hand sewn beads and was made completely of silk (made to Amber's exact body measurements). Not only did it include the hand beading, but it had a custom built in corest. Amber Martinez looked absolutely stunning in it. Amber also chose to pair the gown, with custom made jewelry by designer Marlene Dade, of LeezaD Jewelry (leezad.com).
Amber is currently starring as Lady Surfside, in Endeavor, Fifth Season, and Apple TV Plus's new TV Show "Surfside Girls" (available on Apple TV) and is also currently slated, for multiple other movies coming out in 2023 and 2024. Including the anticipated "Fight of Fury 2: Annihilation", where she will reprise her character acting role of Roxona.
Some of Amber's previously worked on films; include the movies Rough Night (Scarlett Johansson), Fight of Fury, Jack Be Nimble (Bai Ling), Senior Entourage (Ed Asner, Jamie Lee Curtis, Helen Reddy, Marion Ross, Mark Rydell), Dead Ant (Tom Arnold, Sydney Sweeney, Sean Astin), The Employer, and Glass Jaw. Amber has also appeared in such television shows as NCIS, WandaVision (Elizabeth Olsen, Paul Bettany), Homeland, Why Women Kill (Lucy Liu), The Goldbergs, This Is Us, Euphoria (Zendaya), and The Offer.
The next two weeks, at the 76th Festival de Cannes, are lining up to be eventful for all the stars and celebrities, in France. Amber Martinez, will surely continue, to make a splash on both the fashion and film scene.
Media Contact
Company Name: Hollywood Now
Contact Person: Tom
Email: Send Email
Country: United States
Website: hollywoodnowpr.com