New children's book "Please, Thank You, and Excuse Me" by Ashley Chadwick is released, a simple, fun way to teach kids about manners and clear communication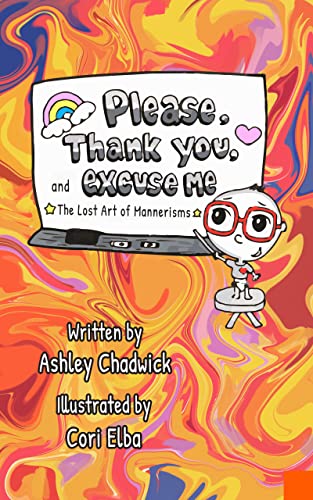 "Please, Thank You, and Excuse Me: The Lost Art of Mannerisms" by Ashley Chadwick, illustrated by Cori Elba, has been released worldwide. This 26-page children's book has achieved Amazon Bestseller status as #1 New Release and #3 Bestseller in the "Children's Books on Values" category, #1 New Release and #6 Bestseller in the "Children's Manners" category, and #1 New Release and #2 Bestseller in the "Children's Social Situations" category.
Through direct language and adorable illustrations, the book introduces the basic concepts of please, thank you, and excuse me in ways that speak directly to young children. With practical, real-life examples that will be immediately familiar to kids, Chadwick reinforces the importance of these useful phrases as the foundation of early language development. The author takes it a step further by presenting each idea as a small child teaching his parents, subtly letting kids know that they're capable of using the lessons too!
Inspired by 15 years of working as a nanny, the author has launched this "Lost Art of Mannerisms" series of children's books to help build communication skills, instill valuable ideals, and reintroduce etiquette, kindness, and thoughtfulness as values shared by the entire family. Not only does the book teach these caring, compassionate communication tools to young children, it also reinforces them for parents, nannies, siblings, and anyone else reading. At the end of the book, Chadwick even teaches how to say please, thank you, and excuse me in sign language!
This inspiring teaching tool is a great way to get young children started thinking and communicating with good manners, and setting the stage for positive, friendly interactions with others as they grow.
Please, Thank You, and Excuse Me (ISBN: 9781958729557) can be purchased through retailers worldwide, including Barnes and Noble and Amazon. The hardcover retails for $12.95 and the ebook retails for $2.99. Wholesale orders are available through Ingram. Review copies and interviews are available upon request.
Learn more at www.thelostartofmannerisms.com
From the back cover:
Politeness is spoken all over the world and in every language, whether in public or private. The simplicity of kindness teaches that everyone matters in this world. These three children's books are lighthearted and geared for all ages. Mannerisms have to start somewhere, so why not parents, grandparents, teachers, friends, and caregivers show our children mutual respect for all people, places, and things?
This series of children's books is a fun way to re-introduce manners into your children's lives. It's cool to be polite and kind to everyone.
About the author:Ashley has been a professional nanny for over fifteen years and the owner of a nanny service. She incorporates nature with mild education and mannerisms in children's lives. When Ashley is not a nanny, she is a world traveler, nature enthusiast, and loves mountain biking, yoga, and spending time with her nephew, Walker.
About MindStir Media:
MindStir Media LLC is an award-winning book publisher. To learn more about publishing a book with MindStir Media, visit http://mindstirmedia.com or call 800-767-0531.
Media Contact
Company Name: MindStir Media LLC
Contact Person: Jen McNabney
Email: Send Email
Phone: 800-767-0531
Address:1 New Hampshire Ave Suite 125
City: Portsmouth
State: NH
Country: United States
Website: https://mindstirmedia.com/