Author's Tranquility Press: Unveiling "Footsteps in the Dark: Stories of the Bizarre and Unusual" by the masterful storyteller Carlo Armenise.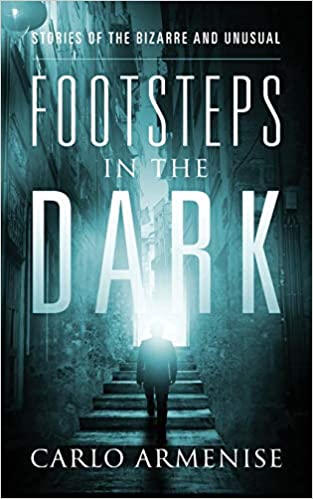 Prepare to embark on a chilling journey into the depths of the human psyche with "Footsteps in the Dark: Stories of the Bizarre and Unusual" by the talented author, Carlo Armenise. This captivating collection of eight supernatural and horror short stories will send shivers down your spine, drawing you into a world where the line between good and evil is blurred, and the consequences of our desires can be hauntingly profound.
With a flair reminiscent of the iconic television series Twilight Zone, "Footsteps in the Dark" presents a series of gripping tales that explore the eternal struggle between good and evil. Armenise skillfully weaves together supernatural elements and thought-provoking character studies, inviting readers to ponder the flaws, frailties, and weaknesses of captivating individuals. These characters will linger in your mind long after you've turned the final page.
Each story within "Footsteps in the Dark" unveils the consequences that unfold when ordinary people face extraordinary circumstances. Armenise's engaging and intriguing storytelling style will hold you captive from the very first sentence, drawing you deeper into the eerie and mysterious worlds he creates. Prepare to be enthralled as you follow the captivating characters' footsteps into the unknown.
Quote from the Book: "In the darkness, our true desires are revealed, and the price we pay for their fulfillment becomes our eternal companion." – Carlo Armenise
"Footsteps in the Dark" offers a unique blend of supernatural themes and intricate character studies. It is a testament to Armenise's mastery of the genre and his ability to evoke deep emotions and visceral reactions in readers. This collection will leave you questioning the boundaries of morality and the lengths to which we are willing to go to satisfy our deepest desires.
Discover "Footsteps in the Dark" on Amazon, where you can immerse yourself in these captivating and thought-provoking tales. Brace yourself for a thrilling reading experience that will leave you on the edge of your seat, eagerly turning each page to uncover the secrets lurking within.
About the Author:
Carlo Armenise is a highly acclaimed author known for his ability to blend supernatural elements with intricate character development. With "Footsteps in the Dark: Stories of the Bizarre and Unusual," he invites readers to explore the darkest corners of the human experience and confront the consequences of our deepest desires. Armenise's unique storytelling style will captivate and haunt readers long after they've finished the last story.
About Author's Tranquility Press
Author's Tranquility Press is a top publicity agency known for delivering innovative solutions designed to help writers across genres to reach a wider audience. The company combines the use of the latest technologies and the expertise and diverse experience of the team to provide quality, relatable content to as many people as possible, irrespective of their location across the globe.
Media Contact
Company Name: Author's Tranquility Press LLC
Contact Person: Patricia Adams, Marketing Supervisor
Email: Send Email
Phone: 8664118655
Address:3800 CAMP CREEK PKWY SW BLDG
City: Atlanta
State: GA
Country: United States
Website: www.authorstranquilitypress.com