Cognerium's Spider Financial Platform is an innovative new digital banking platform of the future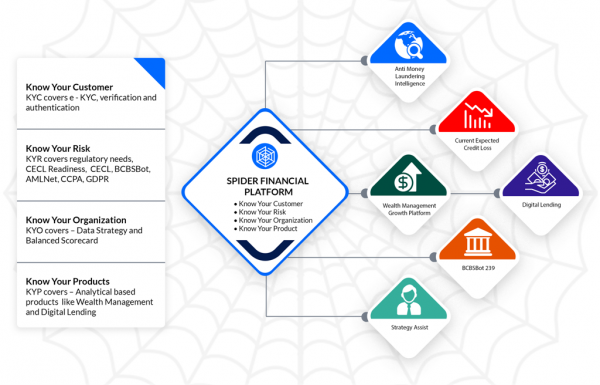 About the company:
Founded in 2017 by Harvard Business School and Carnegie Mellon University Alumni, Cognerium is an AI research and development labs delivering innovative and value-driven business analytical solutions, using Data Science, Robotics, Artificial Intelligence, and Cognitive Technologies. Cognerium's team is made up of industry experts, data scientists with masters and PhD degrees in various fields including the psychology of human decision making and deep learning.
Cognerium has three core offerings:
Spider Financial Platform – An open digital banking platform
AI Research and Development Labs – Dedicated Research Labs for Strategic partners and clients
Products – Comprehensive collection of AI and Big data-based products to meet the critical banking business needs.

About its products and platforms:
Cognerium's Spider Financial Platform (SFP) is an open digital banking platform that is developed primarily for the small and midsize banks (SME's), credit unions and other financial institutions considering their constraints related to the cost and access to niche talent. Due to these constraints, SME's are unable to capture new market-share and having difficulty in complying with evolving regulations. Cognerium took this gap as an opportunity and developed SFP allowing SMEs to have similar capabilities as larger banks. In other words, Cognerium's vision is to be a front runner in the platform-first movement and thereby democratize the digital AI banking products to all the financial institutions regardless of the size of their balance sheet – providing better financial services to their end consumers.
Today we talk to Kishore Sharma, Partner-AI at Cognerium, to know more about Spider Financial Platform and how he sees this being a disruptive force in coming years.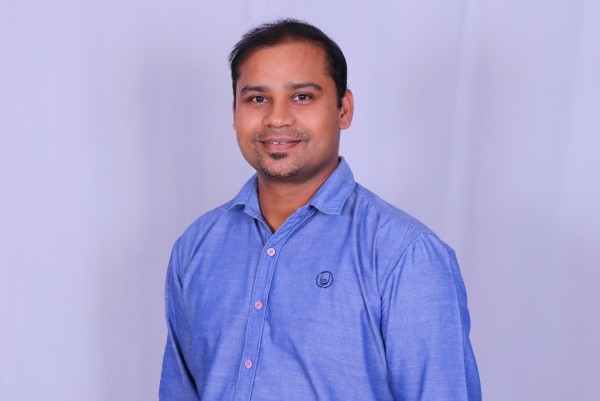 Interviewer: Good morning, Kishore. Could you give us a brief about your background and your role in Cognerium?
Mr. Kishore: Good morning and thanks for having me today. As a Partner in AI at Cognerium I have two sets of responsibilities – first, to lead the Go to Market and Business Development teams and secondly, to spearhead strategic partnerships for the firm. I have more than a decade worth of relevant experience in this space in similar as well as in larger companies.
Interviewer: Tell us about your recently launched Spider Financial Platform.
Mr. Kishore: Let me divide my answer into the following parts – Business Purpose, Platform based model and its advantages and Components and Apps – and then let me expound on each of those parts in a bit more detail so that we understand Spider Financial Platform at length.
Business Purpose – We don't have a level playing field today in Digital AI Banking product space. Larger banks are better placed in investing in cutting edge tech either organically or through acquisition while SMEs are playing a catch-up game. Our objective is to level this field, make AI and cutting edge digital banking products affordable and bring that capability to institution of every size. With the rollout of Spider Financial Platform, we are at the cusp of realizing that objective.
Platform-based model and its advantages – Spider Financial Platform is a pay per use open banking platform that consists of pre-built, time-tested, robust and flexible products and apps, that could be provisioned at an unmatched speed, compatible with a variety of ecosystems and offered up in a subscription-based pricing model.
Its key advantages are:
Very low capex
Cost-effective pay per use subscription-based pricing model
API based architecture,
Modular design and innovative subscription model enables solely business-need based cost-effective usage
Pre-built apps and products time-tested in the industry that also offer room for customization
Extreme Speed and agility while provisioning
Reduced development lifecycle results into much faster go to market
Limited labor cost and effort for ongoing maintenance
Limited to no involvement during regular updates which are applied seamlessly
Comprehensive use case coverage under one platform umbrella
Built on Open source – hence, agnostic of underlying platform and highly portable
Most importantly, our best of breed products and apps on the platform and access to our industry-leading talent pool

Platform Components –
SFP components have been built in 5 layers and each layer has several products addressing some of the banks most important functionalities. Here are the list of SFP layers:
AppStore
Crowd-Sourcing
Artificial Intelligence
Smart Segmentation
BigData and Blockchain

Interviewer: How will it help the SMEs (Small and Medium Enterprises) in expanding their business?
Mr. Kishore: Built on Bigdata, enabled by AI and powered by blockchain technologies, this is a unique platform that offers SMEs option to license the entire platform or selected features of the platform based where they are in their digital and AI transformation journey.
The platform offers several apps – of which digital lending and digital wealth help drive exponential growth in SMEs. The apps have industry-leading digital features and advanced AI models to optimize marketing and sales processes, driving business growth.
Interviewer: What will be the impact of Spider Financial Platform on conventional banking system?
Mr. Kishore: At a macro level we are witnessing secular and a paradigm shift towards the shared economy, autonomous, Digital and AI. In line with that, we are observing customer mindset shift and that has a profound impact on how we view the bank of tomorrow. We believe that over the next few years we will have to rethink who our customers are and what kind of product will really appeal to them. While this definition will rapidly change and evolve, one thing is for certain – the banking products for the future would need to be extremely flexible. We developed SFP from that design thinking principle and thereby we have made it extremely flexible and adaptive to change. SFP is a highly flexible platform we are better placed in adapting to fundamental business changes than conventional banking products in the marketplace.
Interviewer: Tell us about other services provided by Cognerium.
Mr. Kishore: Apart from SFP, Cognerium also spins up dedicated Research and Development Labs and offers those up as a service to its strategic partners and clients. Cognerium deploys state of the art security and identity protection measures to safeguard its clients' interests and confidentiality. It is in active engagement with multiple banks, eminent product vendors and very large consulting firms through its AI Research Lab offering.
Interviewer: What are the company's plans for the near future?
Mr. Kishore: In the near future our plan is to extend SFP's features and expand our client base. Feature-wise we are in the process of introducing Robotics on SFP as we are broadening our prospective client base. In addition to that, we deploy major and minor update releases as per our roadmap.
Interviewer: Tell us about the other Founders and team members of Cognerium.
Mr. Kishore: Our founders are Harvard Business School and Carnegie Mellon University Alumni with decades of experience both in technology and business. Our team of data scientists with Masters and PhD degrees in varied fields like psychology of human decision making and Artificial Intelligence.
More information about Cognerium can be found on its official website.
Media Contact
Company Name: Cognerium Research Labs
Contact Person: Kishore Sharma
Email: Send Email
Country: United States
Website: www.cognerium.com