Hot off the Press: New Book Launched by Nyrie Roos – Content Marketing for Your Small Business or Practice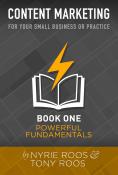 AS A SMALL business owner or professional in practice, getting and keeping your name in the public eye may mean the difference between seeing your business alive and well in 50 years or having to close your doors and walk away from your dream all too soon. Nyrie Roos in her latest released book says, "your marketing strategy needs to be one that gets you through the tough times by convincing your consumer that you're worth their investment, both now and in the future."
Fortunately, there are several ways to achieve this goal, with content marketing being one of the best. The problem is that most small business owners think that this type of marketing is overly complex or expensive, and often requires the hiring of outside experts says Nyrie. And if you're like most small businesses or professionals, you simply don't have cash to put at risk.
The purpose of this book is to help business owners, trying to rise to the top of their niche in terms of position, sales, reputation and expertise. They may have experienced some successes and yet still can't help wondering why connecting with customers, clients, or patients can be so difficult.
"When you begin to incorporate the strategies that I'm going to show you throughout this book, you'll become magnetic to your IDEAL customer…easily attracting them to you like a moth to bright light," says Nyrie. "And just as importantly, you'll discover that those undesirable clients will likewise, be repelled."
You'll find your business in greater demand and be able to increase your fees and prices, leaving your competitors stumped. And when all is this done properly, it will result in a much easier and more efficient sales process.
What you're about to discover will help position you become the expert in your marketplace. And the best part is that you'll be delivering a great customer experience before the sale ever occurs. Your prospects will thank you and become customers, who will trust you, refer you, and reward you with their business for years to come.
Nyrie has broken this book into three sections. More specifically there are three mentors from whom she credits the majority of her my success and thinking regarding business development and marketing. She introduces them each more thoroughly in the section specific to their influence upon her, but briefly, they are Stephen Covey, Seth Goden and Peter Duckett.
Nyrie says "I can't wait to share the lessons I've learned and to see you implement them into your business. I'd like to hear your stories of success too."
So grab a cuppa or a cool drink and get started by purchasing the book on Amazon.
About Nyrie Roos
Nyrie Roos is a co-founder of explosive marketing. She has trust and belief her methodology; she works through with clients, to ensure they get the highest possible "end game" results. Her brand has educated over 1,000 businesses globally in different industries, including small to medium-size businesses through to Ken Blanchard &Tony Robbins coaches.
Contact Information

Contact Nyrie Roos
Phone: Ph +61 439 558 606
Website: https://explosionmarketing.com.au
Media Contact
Company Name: Explosion Marketing
Contact Person: Nyrie Roos
Email: Send Email
Phone: 0439558606
Address:Suite 5 level 1/1 Sands St
City: Tweed Heads
State: New South Wales
Country: Australia
Website: https://explosionmarketing.com.au